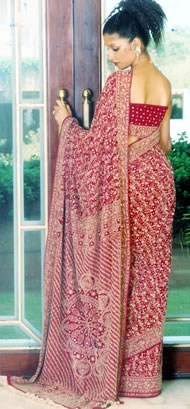 Many brides opt to wear the traditional Indian saree on their big day. The saree is considered one of the most elegant items a woman can wear. It reflects the true essence of Indian women and holds a grace beyond any other.
Sarees come in various diferent lengths from 5 to 9 yards and can be worn in upto 15 different ways according to regional preferences. It can comprise of the finest silk or embroidered with golden threads, finished with a tassled border or just a simple floral design. It allows the wearer to express their peronality without uttering a word.
We at Picture Perfect Makeovers know how to style your saree to your preference while matching your hair and makeup to optimize and compliment the whole look.
We can tie your saree in the traditional way with the "pallau" over the left shoulder(as seen in the picture above), covering most of the body or alternatively drape it from back to front in a reverse style which exposes the work on the pallau to the maximum(as seen in the picture on the left).
We can tie your saree in the more modern trend of tieing it around the hips and draping the pallau over the arm if this is a style you would like. This optimises the details on your blouse(as seen in pictures right and below).
Whatever look you want, we will accommodate your needs and help you achieve the look you want for your wedding. Now, we can even
custom order your outfit
for you!